Yami Marik was born from the Darkness within
Marik
's Heart.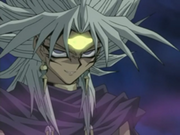 Super Powers
Edit
Only Individuals with a Certain Connection to the Ancient Scriptures Can Control the Egyptian God Cards
==Deck
==
Monsters
Normal Monsters
Effect Monsters
Bowganian
Dark Jeroid
Holding Arms
Holding Legs
Makyura the Destructor
Masked Beast Des Gardius
Newdoria
Plasma Eel x3
Revival Jam
Swallowtail Spike Lizard
The Winged Dragon of Ra[Notes 1]
Vampiric Leech
[hide] 

Extra Deck
Fusion Monsters
Ad blocker interference detected!
Wikia is a free-to-use site that makes money from advertising. We have a modified experience for viewers using ad blockers

Wikia is not accessible if you've made further modifications. Remove the custom ad blocker rule(s) and the page will load as expected.