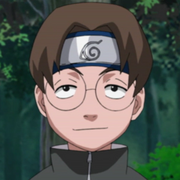 Udon
is a shinobi of Konohagakure, and together with his friends, 
Konohamaru
 and 
Moegi
, a member of Team Ebisu.
The Situation is this: We Are trapped inside while the Enemy Can Come And Go As they Please.  Now that they have been Allowed to Infiltrate the Village we go to Stage 2 as outlined in the Sneak Attack Countermeasures Manual.  Before we can Counter Attack we must evacuate the Civilians. Your job is to round up everyone in the village and guide them calmly and swiftly to a safe place. This is your first A Ranked Mission.
Anyone you see that is of Chuunin Rank or higher tell them to come to the main Power Station. The Village is at risk. 
Techniques
Edit
Cheesecake Jutsu
Screenshots
Edit
Ad blocker interference detected!
Wikia is a free-to-use site that makes money from advertising. We have a modified experience for viewers using ad blockers

Wikia is not accessible if you've made further modifications. Remove the custom ad blocker rule(s) and the page will load as expected.