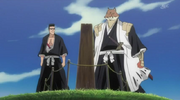 Sajin Komamura
 (狛村 左陣, 
Komamura Sajin
) is the captain of the7th Division. His lieutenant is 
Tetsuzaemon Iba
.
Some time before joining the Gotei 13, Komamura left his family, ashamed of living in the shadows.[13] Although it is currently unknown where Komamura originated, Yamamoto gave him the opportunity to join the Gotei 13 even though he wasn't Human.
One day, while sitting on a grassy area, Komamura was sensed by Tōsen, who didn't know where he was (due to his blindness). It was only when Komamura spoke that he realized he had talked in the wrong direction. Complimenting Komamura's ability to hide his presence very well, Tōsen noted that he had never been able to not feel someone's presence before, even though his eyes cannot see. Komamura was highly touched, for this was the first time that he wasn't looked upon as an outcast.
Komamura met Tōsen again during their time in the Gotei 13, and Aizen was introduced to Komamura through Tōsen.
Bankai: Kokujō Tengen Myō'ō (黒縄天譴明王, Vidyaraja of Kalasutra's Heavenly Punishment; Viz"Divine Retribution, Black Ropes of Ruination"): Komamura brings forth the entire giant, a Bankai of living armor.[123] Standing at about a hundred meters tall, the giant resembles an armored samurai. It wields a sword with a guard similar to Komamura's, but with a different blade and a string hanging from the hilt. Komamura also retains its form as a regular katana. While in use, Komamura and his katana maintain a glow of spiritual energy.
Ad blocker interference detected!
Wikia is a free-to-use site that makes money from advertising. We have a modified experience for viewers using ad blockers

Wikia is not accessible if you've made further modifications. Remove the custom ad blocker rule(s) and the page will load as expected.