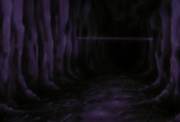 Another Dimension in Bleach.
Allusions
Edit
The Precipice World is similar to that of the Hyperbolic Time Chamber from DBZ. With the way time works and with it being used as a place of training.
According to Isshin Kurosaki, the Precipice World is a Disconnected Space and is Surrounded by multiple layers of a Temporal torrent. So the Density of Time is overwhelming to the point where 1 year in are World is equal to 2000 years in that world.
Ad blocker interference detected!
Wikia is a free-to-use site that makes money from advertising. We have a modified experience for viewers using ad blockers

Wikia is not accessible if you've made further modifications. Remove the custom ad blocker rule(s) and the page will load as expected.