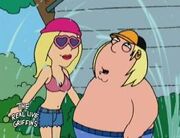 Other Meg
 was the replacement to 
Meg Griffin
 after she left production of the reality TV show 
The Real Live Griffins
 in the episode Fifteen Minutes of Shame. Her real name is unknown. Her charm and good looks draw the attention from the rest of the family and cause them to also quit. She stayed on the production, and was joined by Tom Arnold,Fran Drescher, Philip Seymour Hoffman, and Mary-Kate and Ashley Olsen.
Chris Griffin
has a big crush on her.
She is voiced by Lisa Wilhoit.
Ad blocker interference detected!
Wikia is a free-to-use site that makes money from advertising. We have a modified experience for viewers using ad blockers

Wikia is not accessible if you've made further modifications. Remove the custom ad blocker rule(s) and the page will load as expected.