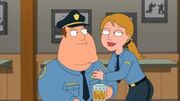 Nora
 is 
Joe Swanson
's police partner in "Internal Affairs".
Peter encourages Joe to have a one-night stand with his attractive new partner in order to even the score with Bonnie for her own indiscretions. But when Bonnie finds out and threatens divorce, Lois insists that Peter get them back together.
Nora is voiced by Anna Kendrick.
Ad blocker interference detected!
Wikia is a free-to-use site that makes money from advertising. We have a modified experience for viewers using ad blockers

Wikia is not accessible if you've made further modifications. Remove the custom ad blocker rule(s) and the page will load as expected.