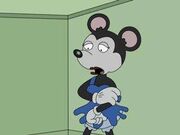 Minerva "Minnie" Mouse
 is an animated character created by Ub Iwerks and Walt Disney in 1928. The comic strip story "The Gleam" (published January 19-May 2, 1942) by Merrill De Maris and Floyd Gottfredson first gave her full name as 
Minerva Mouse
. Minerva has since been a recurring alias for her.
Family Guy
Edit
Disney draws her nude in "A Picture's Worth a Thousand Bucks". Modeling for him, she feels embarrassed exposing herself this way. She is used as an example by Peter Griffin to his son Chris of people doing undesirable things to be a success.
She was voiced by Alex Borstein.
Ad blocker interference detected!
Wikia is a free-to-use site that makes money from advertising. We have a modified experience for viewers using ad blockers

Wikia is not accessible if you've made further modifications. Remove the custom ad blocker rule(s) and the page will load as expected.