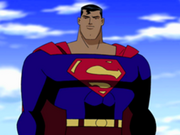 A member of the Justice League.
Superpowers
Edit
Heat Vision
Superhuman Hearing
Superhuman Speed
Superhuman Stamina
Superhuman Strength: Superman can lift a Maximum of 3000 Tons.
Telescopic vision
Voice synthesization
X-Ray Vision
Feats of Strength
Edit
His punches created shockwaves(JLU)
Tossed Kalibak miles away(S:TAS)
Carried an jumbo-jet(JLU)
Stopped a speeding missile(S:TAS)
Sent Gorilla Grodd flying across a football stadium with a flick of his finger(JL)
Feats of Speed
Edit
Fast enough to act like a drill/tornado(S:TAS/JLU)
Faster than a bullet(Every Show)
Dodged Darkseid's Omega beam(JL)
Faster than the future Batmobile's top speed, Mach 3(Batman Beyond)
Feats of Durability
Edit
Unphased by lava(JLU)
Unphased by a jet missile and a car bomb(S:TAS)
Immune to small-arms fire(S:TAS/JLU)
Survived a kryptonite missile(S:TAS)
Withstood Captain Marvel's lightning attacks(JLU)
Unphased by buildings collapsing on top of him(JLU)
Secret Identity
Edit
Characters who know his Greatest Secret.
Jax-Ur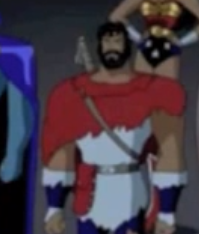 Ad blocker interference detected!
Wikia is a free-to-use site that makes money from advertising. We have a modified experience for viewers using ad blockers

Wikia is not accessible if you've made further modifications. Remove the custom ad blocker rule(s) and the page will load as expected.