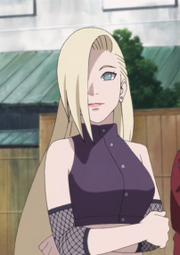 Ino Yamanaka
 (山中いの, 
Yamanaka Ino
) is a member of Konohagakure's Yamanaka clan. She and her fellow members of Team Asuma are their generation's Ino–Shika–Chō trio.
Chakra Hair Trap Technique
Chakra Transfer Technique
Human Boulder Yo-Yo
Ino-Shika-Cho Formation
Mind Destruction Jutsu
Mind Transfer Clone Jutsu
Mind Transmission Jutsu
Sensory Communication
Sensory Jutsu
Screenshots

Edit
Ad blocker interference detected!
Wikia is a free-to-use site that makes money from advertising. We have a modified experience for viewers using ad blockers

Wikia is not accessible if you've made further modifications. Remove the custom ad blocker rule(s) and the page will load as expected.