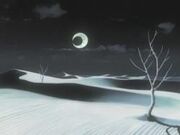 Hueco Mundo
 (虚圏 (ウェコムンド), 
Wekomundo
; Spanish for "
Hollow World
", Japanese for "
Hollow Sphere
") is the dimension in whichHollow and Arrancar usually reside. It lies in between the Human World and 
Soul Society
.
Residents
Edit
Aisslinger Wernarr
Master Baraggan Louisenbairn
Bulbous G
Demoura Zodd
Di Roy Rinker
Director General Gin Ichimaru
Director General Kaname Tōsen
Dondochakka Birstanne Doppleganger 1
Dondochakka Birstanne Doppleganger 2
Dondochakka Birstanne Doppleganger 3
Dondochakka Birstanne Doppleganger 4
Dondochakka Birstanne Doppleganger 5
Dordoni Alessandro Del Socaccio 
Edrad Liones
Fishbone D
Gantenbainne Mosqueda
Grand Fisher
Guardian of the Forest of Menos
Lieutenant Renji Abarai Doppleganger
Loly Aivirrne
Lord Sōsuke Aizen
Lumina
Master Aaroniero Arruruerie
Master Coyote Starrk 
Master Grimmjow Jaegerjaquez 
Master Nelliel Tu Odelschwanck
Master Szayelaporro Granz
Master Ulquiorra Cifer 
Medazeppi 
Menoly Mallia
Metastacia
Nakeem Grindina
Pesche Guatiche Doppleganger
Rudbornn Chelute
Runuganga
Shawlong Koufang
Tesra Lindocruz
The Menos Grande
Uryū Ishida Doppleganger
Verona
Yylfordt Granz
Zommari Rureaux
Zonzain
Giant Hollow Fortress
Patros
Menis
Aldegor
Dondochakka Birstanne 
Choe Neng Poww
Charlotte Chuhlhourne
Abirama Redder 
Findorr Calius
Ggio Vega
Nirgge Parduoc
Ayon
Battikaroa 
Ad blocker interference detected!
Wikia is a free-to-use site that makes money from advertising. We have a modified experience for viewers using ad blockers

Wikia is not accessible if you've made further modifications. Remove the custom ad blocker rule(s) and the page will load as expected.