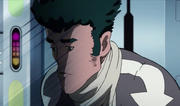 This Dandy bears a great resemblance to the regular
Space Dandy
but is in a constantly depressed state, constantly saying he wants to die. The reason being is that his universe's Meow is a creepy and imposing figure who Emo Dandy cannot understand and the fact that this Meow carries around a helmet and has never once put it on. The other reason is that his universe's QT is an annoying old man who is in a pink body suit claiming to be a robot.
After the cosmic string problem is fixed, however, this Dandy and his crew switches places with the regular Aloha Oe crew as a result. Accepting the new characters, The Space Dandy Narrator plays the a modified version of the series introductory cutscene.
Ad blocker interference detected!
Wikia is a free-to-use site that makes money from advertising. We have a modified experience for viewers using ad blockers

Wikia is not accessible if you've made further modifications. Remove the custom ad blocker rule(s) and the page will load as expected.