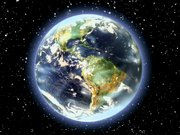 Earth-16
 or 
Universe-16
 is the universe in which 
Young Justice
 takes place. It is part of DC Comics' multiverse of 52 parallel worlds that arose after the 
Infinite Crisis
.
Greg Weisman and Brandon Vietti asked DC for one of the Earths that had not been used, and were assigned Earth-16.
However, Earth-16 had been used before. In a DC Nation column, it was said to be the home of the "Super-Sons", and in the Countdown: Arenaminiseries, a Superman of Earth-16 named Christopher Kent appeared. When this was discovered, it was too late to change it for Young Justice, but those events have thus far been ignored.
The timeline lists the events that happened on Earth-16 in chronological order.
Alternate Universes
Edit
Super Heros
Edit
Supervillains
Edit
Citizens
Edit
Ad blocker interference detected!
Wikia is a free-to-use site that makes money from advertising. We have a modified experience for viewers using ad blockers

Wikia is not accessible if you've made further modifications. Remove the custom ad blocker rule(s) and the page will load as expected.