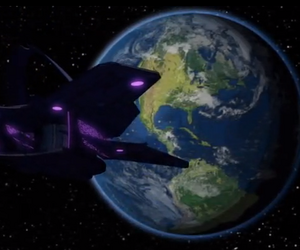 A universe where Spider-Man decided to work for Nick Fury in order to surpass himself and become the "Ultimate" Spider-Man, and also where the previously-disbanded Avengers reform to fight the threats to the world again. 
TV Shows
Earth-TRN123 is the reality designation for
Dimensions
Dark Avengers Universe
Residents
Avengers
S.M.A.S.H.
S.H.I.E.L.D. Training Program
New Warriors

Current Members
Potential Recruits

Guardians of the Galaxy
Supporting Characters
S.H.I.E.L.D.

Maria Hill
Agent Steve (Mentioned)
Princess Python (Zelda DuBois)

Andy (Awesome Android)
Ant-Man (Henry Pym)
Damage Control
Villains
Doctor Doom (Victor von Doom)
Hydra

Red Skull (Johann Shmidt) (leader)
Madame Hydra (Ophelia Sarkissian)

Dormammu
The Cabal
Squadron Supreme
Thunderbolts
Sinister Six
C.R.A.S.H.
Symbiotes
Frightful Four

Trapster ("Paste Pot Pete" Petruski)
The Wizard

Circus of Crime
Zodiac
Wrecking Crew
The Burglar
Blizzard (Donnie Gill)
Batroc the Leaper (Georges Batroc)
Melter (Bruno Horgan)
Whirlwind (David Cannon)
Dragon Man (Destroyed)
Zzzax (deceased)
Mesmero
Nightmare
Juggernaut (Cain Marko)
Kree
Skrulls
Phalanx
Skurge
Mystique (Raven Darkholme)
Shocker (Herman Schultz)
Destroyer (Enchanted Armor)
The Kangaroos
Mole Man (Harvey Elder)

Moloids
Mole monster (deceased)

Spymaster
Frederick Myers (Boomerang)
Mysterio (Quentin Beck)
Big Wheel (Jackson Weele)
Doctor Bong (Lester Verde)
Four Seasons

Spring
Summer
Fall
Winter

Simon the Pie Man
Gardoom the Guardsman
Xtreme Krhyme Crew
Chameleon (Dmitri Smerdyakov)
Prowler (Hobie Brown)
Mad Thinker
Dr. Siperstein
Kang the Conqueror
The Collector (Taneleer Tivan)
Magneto (Erik Lehnsherr) (Mentioned)
Wendigo (deceased)
Chitauri
Paper Doll (Piper Dali) (Mentioned)
Mister Sinister (Nathaniel Essex) (Mentioned)
Blob (Fred Dukes) (Mentioned)
Other Characters
Aunt May
Fantastic Four
Vision
Ben Parker (deceased)
X-Men

Beast (Hank McCoy)
Rogue (Anna Marie) (Mentioned)
Professor X (Charles Xavier) (Mentioned)
Cyclops (Scott Summers) (Mentioned)
Storm (Ororo Munroe) (Mentioned)
Jubilee (Jubilation Lee) (Mentioned)
Kitty Pryde (Katherine "Kitty" Pryde) (Mentioned)

Caliban (Mentioned)
Doctor Druid (Anthony Druid) (Mentioned)
Vishanti (Mentioned)
H.E.R.B.I.E.
Eitri
Doc Samson
Captain Ultra (Griffin Gogol)
Dazzler (Alison Blaire)
Power Pack (Mentioned)
Howling Commandos
White Tiger (Nestor Ayala)
Nova Corps (Mentioned) (deceased)
Captain Marvel (Mentioned)
Inhumans
Web-Warriors
Emma Ross
Luke Ross
Ravi Ross
Zuri Ross
Events
Trivia
After appearing in the Ultimate Spider-Man, Avengers Assemble and Hulk and the Agents of S.M.A.S.H.animated series, the Guardians of the Galaxy now sport character designs and personalities similar to their MCU counterparts.
It is implied that events similar to the Guardians of the Galaxy movie happened in this universe too.
Ten two-parter shorts were released on iTunes and social media to promote the animated series and show the origin story of each Guardian of the Galaxy (see Videos section below).
Due to many plot points involving their crossovers with the other Earth-12041 shows, it can be presumed that this show takes place chronologically before the other shows.

Titus is still a member of the Nova Corps in this show. In Ultimate Spider-Man, he has already been discharged (due to the Guardians) and is implied to have slaughtered all the other Nova, with the exception of Earth's Nova.
Ronan is stated to have been destroyed by the Guardians, but is revived by Nebula, explaining his presence in Hulk and the Agents of S.M.A.S.H. as one of the final antagonists.[8]
Similarly to Ronan, the Kree Supreme Intelligence is destroyed in the final episode of Hulk and the Agents of S.M.A.S.H., but is still alive here.
Thor and Loki seem to be on much better terms when discussing the Asgardian-Spartaxian War than they ever have been in the other shows, hinting at Loki's betrayal during this affair being the action that splits them apart for good.
Also, Thor and Star-Lord meet for the first time in this show, despite the Guardians and the Avengers being aware of each other during their team-up against Galactus in Avengers Assemble.
Screenshots