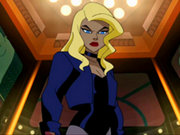 In the sequel series 
Justice League Unlimited
, Black Canary was voiced by Morena Baccarin. She was first seen in a small cameo at the end of "Initiation", where her looks are enough to convince 
Green Arrow
 to stay in the League. She first appears as a main character in "The Cat and the Canary". She was vexed because her old mentor, 
Wildcat
, had been obsessively engaging in underground fighting tournaments, and she convinced the smitten Green Arrow to help her convince Wildcat to return to the League. She and Green Arrow start a relationship, as seen in "Double Date", thereby paying homage to their famed romance in the comics. She also started a rivalry with Huntress.
Screenshots
Edit
Ad blocker interference detected!
Wikia is a free-to-use site that makes money from advertising. We have a modified experience for viewers using ad blockers

Wikia is not accessible if you've made further modifications. Remove the custom ad blocker rule(s) and the page will load as expected.