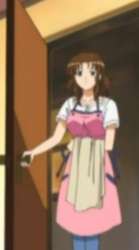 Aoi is Yuji and Yuri's mother. Aoi is kind and gentle and cares deeply for Yuji and Yuri, no matter what they get themselves into. Aoi is a dedicated and domestic housewife taking care of the house and family. Aoi has a curvaceous figure and is well-mannered, but after giving birth to Yuji, her husband may have lost interest in Aoi. His fate is unknown, but Aoi is shown living with Yuji and Yuri alone.
Screenshots
Edit
Ad blocker interference detected!
Wikia is a free-to-use site that makes money from advertising. We have a modified experience for viewers using ad blockers

Wikia is not accessible if you've made further modifications. Remove the custom ad blocker rule(s) and the page will load as expected.